Lightning Furniture is a company that sells special coasters. Naturally, Lightning Furniture wanted to provide their products with a logo. So we started looking for a good solution. Because coasters are not too big, we recommended to use the 20 * 20 mm electric branding stamp. In this case, an electric branding stamp is best, because the logo must be set precisely. After all, you don't want the logo too deep or too light.
View the result below: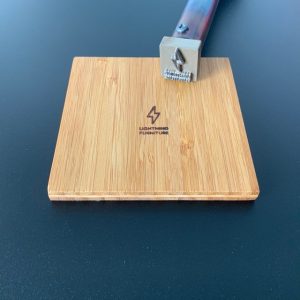 The result is impressive. The logo is on it perfectly. With the electric branding stamp, Lightning Furniture can manually provide each coaster with a beautiful logo.
Are you curious about the products of Lightning Furniture? Look at: https://www.lightning-furniture.com/